Search Results - Twin Falls Times-NewsMay 12, 2015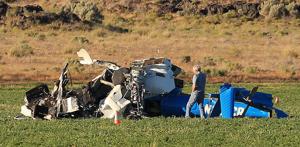 SHOSHONE | Three Twin Falls District BLM firefighters traveled to Washington, D.C., last week to receive an award for valor and exceptional service to the nation as public servants at the 70th Department of the Interior Honor Awards Convocation.
Engine Captain Eric Killoy of Heyburn, Engine Operator Camas Beames of Hazelton, firefighter and certified emergency medical technician Mackenzie Tiegs of Buhl, and firefighter and EMT trainee Dylan Forrester of Caldwell were recognized for their heroic actions last summer when they were the first to respond to a helicopter crash.
The aircraft, operated by Reeder Flying Service, of Twin Falls, was flying northeast on June 29 when it came down in a hay field about 300 yards north of Idaho Highway 24 near mile post 40.
The four firefighters found three victims with varying injuries. They stabilized and treated them until advanced medical help arrived. Two of the victims were flown to the Portneuf Medical Center in Pocatello, and one was transported to St. Luke's Magic Valley Medical Center in Twin Falls. All three victims survived.
"We are extremely proud of the actions our employees took that day," said Curtis Jensen, acting fire management officer. "Their calm thinking and quick action saved lives, and we are honored to call them Twin Falls District employees. We are also confident that any one of our engines on the district would have responded in the same manner."
"These employees have made a genuine difference to our nation through their dedication and hard work for the BLM," said BLM Deputy Director Linda Lance. "All of us at the BLM are proud of the enormous contributions that these employees have made to their communities to benefit the public lands."