Search Results - Twin Falls Times-NewsMay 12, 2015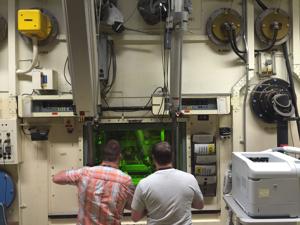 IDAHO FALLS (AP) | An eastern Idaho nuclear facility can safely handle two shipments of 25 spent fuel rods for research and it's not the start of turning the state into a nuclear waste dump, officials at the site say.
The U.S. Department of Energy wants to better understand "high burnup" spent fuel that is accumulating at nuclear power plants in the U.S., said Todd Allen, deputy director of science and technology at the Idaho National Laboratory.
High burnup fuel remains in nuclear reactor cores longer to produce more energy but comes out more radioactive and hotter. It's cooled in pools before being encased in steel and concrete.
"There's an increasing amount," Allen said. "Most of the 100 existing plants are now using higher burnup fuel."
But a legacy of mistrust with federal officials concerning nuclear waste prompted former Govs. Phil Batt, a Republican, and Cecil Andrus, a Democrat, to blast current Gov. C.L. "Butch" Otter when the proposed shipments became known in January. The former governors said the shipments — one in June and another in January 2016 — were the start of turning the 890-square-mile federal site into a nuclear waste dump that violated a 1995 agreement they hammered out.
Political supporters of the shipments say Idaho will lose millions of dollars if it turns them away, and that the INL could lose jobs as well as status as a nuclear research facility.
So on Monday, members of a committee formed by Otter to find ways for Idaho to benefit economically from the federal facility toured the site 50 miles west of Idaho Falls along with some members of the public to hear nuclear scientists explain the lab's capabilities and safety measures.
"This is a one of a kind for the country," said Mark Henry, manager of the lab's Materials and Fuels Complex operations, explaining how the shipments would arrive and be handled.
The INL would examine the spent fuel, Allen said, to determine how its properties change and what that means for storage at power plant sites and eventually moving for permanent storage. Scientists are also interested in recycling the fuel rods.
Idaho residents first learned about the shipments in January. It turned out that U.S. Energy Secretary Ernest Moniz, in a letter to Otter dated Dec. 16, said funding for the research associated with the nuclear waste could bring up to $20 million annually through the end of the decade, a fact Otter noted in defending the decision.
At the moment, though, the Department of Energy is in violation of its 1995 agreement with Idaho in two areas. Malfunctions with a $571 million facility are causing delays turning 900,000 gallons of liquid waste into a solid form.
Todd Dvorak, spokesman for Idaho Attorney General Lawrence Wasden, said Wasden reiterated to federal officials on Monday that the state won't accept the spent fuel rods until the Department of Energy shows it can successfully process the liquid waste.
Bill Lloyd, the project's manager, said Monday they would try again to process the waste in the fall, and that he had "100 percent" confidence they would eventually succeed.
The second violation is because an underground nuclear waste repository in southern New Mexico is not taking shipments of low-level waste due to recent mishaps at that facility, leaving the waste stuck in Idaho past deadlines set in the 1995 agreement.
On another front, Batt said Tuesday that he, in consultation with Andrus, is in talks with the Department of Energy to work out a deal to allow in the spent fuel for research. Batt and Andrus are no longer in power, but they retain significant sway, particularly on nuclear waste issues.
The INL is doing important research work, Batt said. "But I vowed to the people I would not let commercial waste in, and to increase that amount without decreasing it somewhere else is not satisfactory to me."
A U.S. Department of Energy official didn't return a phone call from The Associated Press on Tuesday seeking information about the first shipment.