Search Results - Twin Falls Times-NewsAugust 6, 2015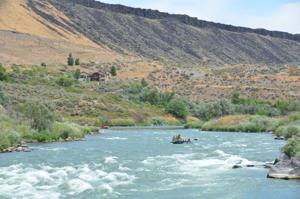 HAGERMAN • Kids giggled and screamed with excitement when the raft plowed into Slide Rapids' 4-foot waves on the Hagerman stretch of the Snake River. Whitewater engulfed the raft and unleashed a refreshing spray on the 90-degree July day.
Class II and Class III rapids, bouncy roller coaster waves, mellow stretches, wildlife and canyon scenery in this seven-mile section of the Snake between Hagerman and Bliss draw lots of families, especially in the hot months.
"I love it," said rafter Steve Erlandson of Pocatello, just after completing a run with other rafters. "It's a good family run," he said, beaching his raft at the take-out ramp near Bliss Bridge.
This part of the Snake is a hidden treasure and seen by few from U.S. 30 on the rimrock bluff above. It is considered one of the best family whitewater day trips in southern Idaho as it winds through desert canyons and agricultural lands below Lower Salmon Falls Reservoir. The river's waters, bolstered by plentiful natural springs for which the Hagerman area is famous, also yields good fishing for trout and sturgeon.
"A majority of the people that go with us on this trip are beginners," said Olin Gardner of Idaho Guide Service, a river outfitter licensed on the stretch. "A lot have never been rafting before."
In addition to being a good beginner stretch, the Snake provides excitement for veteran rafters and a place to run whitewater year-round. In fact, several groups of boaters traditionally celebrate by running the river on New Year's Day.
This summer the Snake is a key in the whitewater scene as other rivers across the state experience drought flows and become low, rocky and difficult to run.
Although the river is considered a family whitewater stretch, some large rapids spice up the mellow stretches. Kids and adults should wear life jackets approved for whitewater, and parents should keep a close eye on the kids in the bouncy waves.
It's a real whitewater river and not a "tubing" stretch or a float that can be done in department-store rafts. Snake River flows are typically high and currents swift and strong. Families need to be experienced in whitewater rafting. Rafters who have never done the Hagerman reach should go the first time with other experienced rafters or with an outfitter.
Some boaters consider the last rapids — Slide Rapids — the roughest set on the river. It's just upstream of the take-out ramp. It can be scouted by going a few hundred yards upstream from the bridge on a dirt road on the west side of the river. There are a couple of large holes and an undercut cliff in the rapids, but experienced rafters negotiate the whitewater fairly easily.
There is a long rock garden below the rapids, then rafters have to watch out for large bridge abutments before the take-out ramp at the Bliss Bridge. Some rafters who want to avoid Slide take out at Idaho Power's Relish Ramp, which is well upstream of the rapids and off River Road.
There are other exciting rapids, too.
The first, Prom Date, is a long stretch of large waves. The next, Captain Crunch, is near a giant stone left from a bridge. It has fast-moving water with a couple of big holes. Some rafters call it Pillar Rapids.
Chris' Hole is next and has a steep elevation drop with a giant hole.
Another set is Frank Lloyd Wright Rapids, which is short with big drops. It's near a home designed by the famous architect.
Idaho Power has several launch sites on the river. The Lower Salmon Falls Dam launch has a raft slide, large parking lot, vault toilet with changing room and big parking area. Another launch is at the confluence with the Malad River and has similar facilities.
The take-out below Bliss Bridge also has a toilet, ramp and parking area. For information, go to Idahopower.com and click on Our Environment, then Recreation, then Parks, then Hagerman Valley.
Idaho Guide Service (Idahoguideservice.com) offers float trips for the Hagerman stretch. Cost is $60 for adults and $49 for 17 and younger. The price includes lunch. The float takes about four hours and usually runs from 10 a.m. to 2 p.m.
"This is a great little section," Gardner said. "It's often overlooked, and it's right in our backyard."