Search Results - Twin Falls Times-NewsJune 11, 2015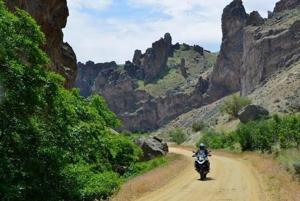 HOMEDALE • The Owyhee Desert is a fascinating place where you go from humdrum scenery to drop-dead gorgeous in an instant, but with summer heat looming you want to get there soon.
People from the Treasure Valley and beyond use the Owyhees for travel and adventure. Their desert is one of the most remote and unpopulated areas in the continental U.S. and one of the rare remaining places where the adventure label is appropriate.
There are few services, developed areas or even basics such as properly marked and maintained roads when you get into the depths of the Owyhees. Add to that the harsh climate, and you have a rugged, beautiful place that's not beginner-friendly.
But cross over to the Oregon side and you will find a rarity for the Owyhees: a well-marked, all-weather (mostly) road that takes you to some spectacular scenery for hiking, camping or a scenic day trip.
The easiest route from the Treasure Valley is to take U.S. 95 south to Homedale. Top off the gas tank and get all your supplies, because Homedale is the last place to do it. It's not a long trip, but it's always a good idea to start any trip into the desert with a full tank of gas.
From Homedale, go west on Idaho 19 about 6 miles to the marked turnoff to Succor Creek Road and Succor Creek Campground.
The Bureau of Land Management recommends high ground clearance vehicles. It's common to see passenger cars at Leslie Gulch, but you can expect 30 to 65 miles of gravel roads (depending on how far you go), which will be washboarded and bumpy with the degree of roughness varying depending on weather and traffic conditions. Rain also causes flash floods that can rut the roads.
From Homedale, you will travel across the upper plains with rolling hills and sagebrush and grassland and little, if anything, to tip you off to what lies ahead.
You will see the dividends of the recent rainstorms that have left the desert green, and keep a sharp eye out for pronghorn and mule deer that inhabit the area, as well as coyotes, raptors and other birds.
Continue along the main gravel road (ignore the unmarked side roads), and you gradually pitch downward and start seeing rock formations in the distance.
You're heading into the Succor Creek drainage, where you will enter canyon country with its sheer bluffs, lush riparian areas (Succor Creek has water year-round) and jutting rock formations.
You will come to the Succor Creek Campground about 15 miles from where you left Idaho 19. This is a popular camping area for people driving or towing a large RV, or who plan to ride ATVs or other off-highway vehicles, or horses. You can even find some shady campsites, which can make a huge difference on a hot, sunny day.
There are no fees or services except an outhouse and a few picnic tables. According to Oregon State Parks, there are eight "primitive" campsites on the west side (road side) of the creek and 15 walk-in campsites across the pedestrian-only bridge on the east side of the creek.
Continue on the road and check out more cool scenery as you wind along the bottom lands with rocks looming above. Then you will start climbing out of the canyon and back across the sagebrush and grassland plains.
Go about 9 miles farther, and you will reach the marked intersection to Leslie Gulch Road, Slocum Creek Campground and the Owyhee Reservoir/River.
The road goes down as you enter Leslie Gulch, which according to the BLM is named after Hiram Leslie, a pioneer who was killed by lightning in 1886.
The area has redrock formations that seem to be lifted from Moab or somewhere else in the Southwest.
There are castle-like formations, spires, arches and other features caused by layers of volcanic ash carved by eons of erosion and natural forces.
This road takes you into the gulch, where there are a series of rock formations and excellent viewpoints. But you're only seeing a fraction of what the area has to offer, which is why you may see many empty vehicles parked on the side of the road. People are out hiking the trails and seeing more of the area.
The only camping in the Leslie Gulch area is near the Owyhee River at Slocum Creek, which has 12 sites with picnic tables and an outhouse. There are canopies over the picnic tables, which provide much-needed shade.
Campsites are congregated in a small space, so don't expect a lot of privacy or seclusion. The campground is a short way from trailheads to other areas and a short walk to the Owyhee River.
Gathering firewood is not allowed, so you will need to bring your own if you want a campfire. There are no reservations and no fees.
The area is home to diverse wildlife, including bighorn sheep. According to the BLM, 17 sheep were reintroduced into Leslie Gulch in 1965, and the herd has grown to more than 200. Mule deer and elk are in the area, as well as coyotes and bobcats.
Bird watchers can spot chukars, songbirds, raptors, California quail, northern flickers and white-throated swifts.
Also remember: It's rattlesnake country, so be vigilant during mornings and evenings when they're most active. Be especially cautious while hiking around the rocks.
The road into Leslie Creek dead-ends at a turnaround and a boat ramp that is now hundreds of yards from the Owyhee River due to an extended drought.
On your return trip, you will backtrack Leslie Gulch Road (it's just as scenic going the other way) back to the junction with Succor Creek Road. To avoid backtracking your whole route, go right and to the marked junction to U.S. 95. It's about 10 miles to the highway, and another 20 miles to Marsing.