Search Results - Twin Falls Times-NewsMay 12, 2015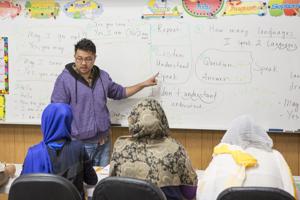 TWIN FALLS • The College of Southern Idaho's Refugee Center announced late last month it will likely receive Syrian refugees starting in October.
It wasn't long before questions started swirling in Twin Falls about these new arrivals from a war-torn part of the Arab world.
We turned to Refugee Center Director Zeze Rwasama for answers to frequently asked questions about how the center works and what we can expect from the new refugees.
Q: Tell me a little bit about the reaction you've received so far to the news of Syrian refugees coming? Has that been different than what you've experienced in the past?
A: You know, I think this is something that is normal when there is a new refugee population. The community reacts the same way. They want to know about it. It's a good opportunity for me to educate the community about the new population that is coming.
My experience was a lot of phone calls, but I also got some callers call back the next day or after two days and say, 'We now understand. We didn't know, but now we know. We are very happy that you were able to explain the process.'
So most of the people that were calling thought that the refugee center here decides who comes. They didn't know there is the federal government that is involved in determining who gets to come to the U.S.
Q: What's the process of the federal government in deciding who comes to Twin Falls?
A: Well, first of all, the executive branch of the U.S. government — after consulting with the Congress— determine how many refugees will come in that year. For last year, in 2014, they said the cap was 70,000. This year, the same thing: the cap is 70,000. Now, there's a lot going on before they select the 70,000.
There's only less than 1 percent of refugees that get the resettlement in a third country. And there's only 25 countries on the planet that resettle refugees and the U.S. is the biggest one.
So the United Nations High Commission on Refugees will determine if the person gets the refugee status first… After that, then the United Nations also would look at the people they have and see who meets the requirement to be resettled in the U.S. Once they determine who, they'll refer that person to the Department of State. And the U.S. embassy in those countries are also involved in referring people to the Department of State...
And after that, if the person has a good case, then the Department of State will refer the case to Homeland Security. Homeland Security would then do multiple checks, security checks, with them. In fact, they'll even send a person from the U.S. to that country to interview them face-to-face...
The other thing I want to add is the U.S. does not resettle refugees just because they are refugees… They wait until a long time. Some of these refugees have been in the camp for 20 years, five years, 10 years. And during that time, they are collecting information about those people...
Then, after all the clearances, the other concern is health. They don't want to bring into the country someone with some kinds of diseases that would affect the health of Americans. So the health department is involved and they do health screenings outside of the U.S. and within 30 days of arrival, they do other health screenings here so we can identify what kind of treatment they need to undergo. If there's a health issue, it's really taken care of immediately after arrival.
Now, at the port of entry — and this is what I just want to make sure people understand — it's the last, last security screening… Now, the security issue, I like the fact that the community is really concerned about this. And the government is concerned about this. I am personally concerned about the security. I came here as a refugee myself running away from atrocities. I don't want the same thing to happen to me here or to happen to these good people who are welcoming these refugees. I don't want that to happen myself.
And I have numbers that I want to talk about… In 2010, we resettled in the U.S. 73,311 refugees, but in 2011, they approved the ceiling at 80,000. They ended up resettling only 66,424 refugees… And the reason for that — meaning the numbers — is because of the security clearances. Of the people that were selected, some did not pass the security clearances and they did not come.
Q: Have you heard concerns specifically about refugees coming in with radical Islamist backgrounds? Are those concerns legitimate?
A: My point of view about that is, yes, everybody is concerned about this. But the calls I get, I make sure I explain to them the security clearances so the concern that they have, the U.S. government has that same concern as well. And that's why all those federal agencies are involved to try to make sure that there are only good people that are coming.
And you can even prove it. Since we started resettling refugees, I haven't heard any terrible thing that these refugees have done in the community. And that proves that U.S. government and its agencies are doing all they can to just bring good people.
Q: What's the process once refugees arrive here in Twin Falls and what kinds of government services do they receive?
A: When they come in, we operate with federal grants and we have the first grant… which is a grant that helps us resettle them within the first 30 days. From out of the money, we pay a deposit for the apartment, the first month of rent, the second month of rent out of that money and then we buy furniture for them out of that money.
Now, sometimes the money isn't not enough because one person, we get to spend $925. So if a single person comes in, that's all we have… But we're very grateful because the community comes in to help us with donations, so we don't need to buy a couch for the money. We get some kitchen items from the community… So we balance from the money we get supplemented with donations in order to have a very successful resettlement of these refugees.
Now, after that 30 days, then we have another federal-funded program to help them with financial assistance… And our goal within those eight months is to help them get a job.
Q: Could you talk about what the center adds to the community and why it's important to resettle refugees here?
A: First of all, I think resettling refugees, it's the right thing to do. Second, the U.S., if you look at the history of the U.S. and see how America was started in the beginning, it's a land of immigrants that came and made America what it is today. Second, one of the very important value of Americans are humanitarian efforts that they do everywhere...
On top of that, these refugees come with diverse skills that they've developed outside the U.S. and then they're coming with those skills in addition to the local skills to help some of the companies grow. I'll give you an example. Right now, we do provide workforce to dairies, which I think is a good thing. If these dairymen don't get people to work for them, now that would affect the economy of our city, the economy even of the state.
Q: How welcoming have Magic Valley residents been to refugees in the past and do you see that changing?
A: No. No, I'm not seeing that changing. If it wasn't for the community, as I said, the money we get from the government is not enough to resettle the refugees. We've seen refugees succeeding. I know a refugee that bought a house after two years after two years of arrival in this area. That shows you how the supportive the community is.
Q: Is there anything else that would be good for people to know?
A: Well, I think that if people are very concerned about the security of this city, I think the best way to even know more is to get involved in helping these refugees and understanding them... And I guarantee they will even love them more just being around them. But if there's that distance, then it's not doing a good thing for our city. It's better for you to know the refugees and then if there's a concern, then you can raise the concern that is well founded.